White Dragon Flavored Beef Chips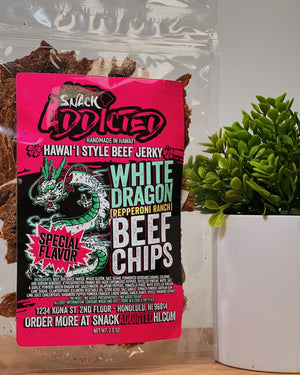 Hawaii made Beef Chips! Also known as crispy beef jerky. Each jerky is thinly sliced so it eats more like a crispy chip rather than your typical chewy beef jerky. 
Introducing the White Dragon! It's our signature Green Dragon flavor mixed with some Ranch to give it that tangy ranch taste!
Ingredients: Beef, Soy Sauce (Water, Wheat Gluten, Salt, Sugar, Fermented Soybeans, Caramel Coloring, And Sodium Benzoate, A Preservative) Franks Red (Aged Cayenne Red Peppers, Distilled Vinegar, Water, Salt & Garlic Powder) Green Dragon Hot Sauce (Water, Jalapeno Peppers, Tomatillo Puree, WhiteDistilled Vinegar, Cane Sugar, Cilantro Puree (Cilantro Vegetable Oil, Citric Acid), Salt, Garlic, Spinach Powder, Xanthan Gum, Lime Juice Concentrate, Habanero Pepper Powder.)Tabasco, Liquid Smoke, Garlic, Ranch, Spices, Tamarind Extract
NET WT: 2.0 OZ
*No MSG*
*No Added Preservatives*
*No Added Sugar*