Freeze Dried Strawberry Soda Float (Freeze Dried Strawberry Guri Guri)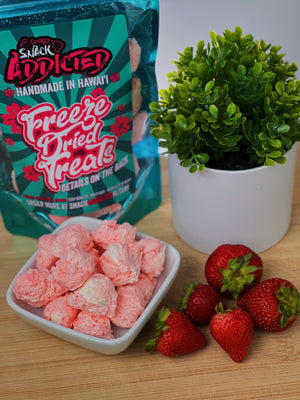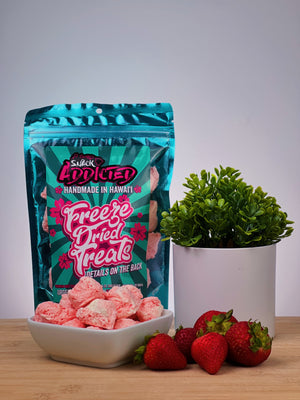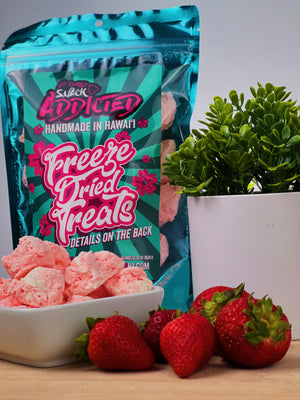 Here at Snack Addicted we're also known for our Freeze Dried Ice Cream flavors. Try Freeze Dried Strawberry Guri Guri Flavor most know from Maui. This flavor we like to describe it as eating a Strawberry Soda float. All of our Hawaii Style Beef Jerky & snacks are made in Hawaii at our shop locally located next to Ala Moana, near Waikiki. Perfect Omiyage or Hawaii Gift to bring back home.
Freeze Dried Guri-Guri Ice Cream Float - Net wt. 3oz. (85.05g)
Ingredients: Milkfat & Nonfat Milk, Sugar, Corn Syrup, High Fructose Corn Syrup, Sweet Cream Buttermilk, Whey, Strawberry Soda, Lemon-lime Soda, Sugar, Palm and/or Canola Oil, Cocoa (Processed with Alkali), High Fructose Corn Syrup, Baking Soda, Sweetened Condensed Milk, Salt, Soy Lecithin, Heavy Whipping Cream, Guar Gum, Xanthan Gum, Polysorbate 80, Cellulose Gum, Carrageenan, Annatto Extract Color.
Allergy Information: Contains Milk, Whey, & Soy
Manufactured by Holomua Kitchen.