Garlic Parmesan Pork Rinds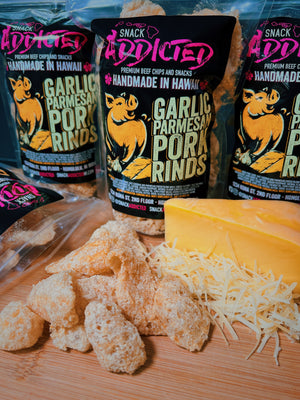 Crispy, crunchy and packed full of flavor try our Garlic Parmesan Pork Rinds! Each bag is stuffed with our special homemade blend of Garlic Parmesan. All locally made in Hawaii. Perfect Omiyage or Hawaii Gift to bring back home.
Ingredients: Fried Pork Skins, Cheddar And Parmesan Cheese Blend (Maltodextrin, sunflower oil, lactose, sodium phosphate, whey, coconut oil, natural flavor), Garlic Salt.
Allergy Information: May contain sesame seeds, Contains Sunflower Oil, Coconut Oil