Phoenix Feather (Spicy One Beef Chip Challenge)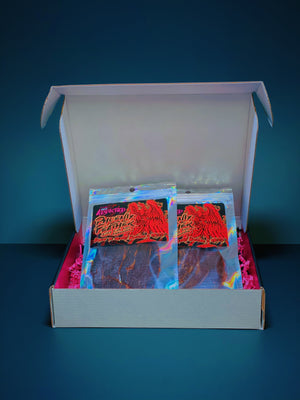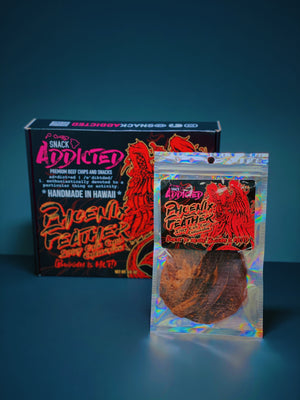 WARNING! THIS BEEF CHIP IS EXTREMELY HOT! EAT AT YOUR OWN RISK!
Please do not order this beef chip if you are sensitive to spicy foods. Allergic to peppers, are pregnant, or have any medical conditions. After touching the chip. Wash your hands with soap and do not touch your eyes or other sensitive areas. Seek medical assistance should you experience difficulty breathing. Keep out of reach of children. Consume with extreme caution!
Each box comes with 2 individually bagged Spicy Beef Chip. Share it with a friend or enemy! >:)
Ingredients: Beef, Soy Sauce (Water, Wheat Gluten, Soy Beans, Salt, Sugar, Caramel Coloring, Sodium Benzoate, A Preservative). Tabasco (Distilled Vinegar, Red Pepper, Salt). Da Bomb Hot Sauce (Habanero Peppers, Chipotle Puree Orange Juice Concentrate, Natural Pepper Flavoring, Tomato Paste, Potassium Sorbate, Sodium Benzoate), Ginger, Scorpion Pepper, Carolina Reaper Pepper, Onion Garlic, Mirin, Tamarind Extract, Anise, Orange Peel, Spices.

NET WT: 0.8 OZ

*No MSG*


Allergy Information: Contains wheat and soy.