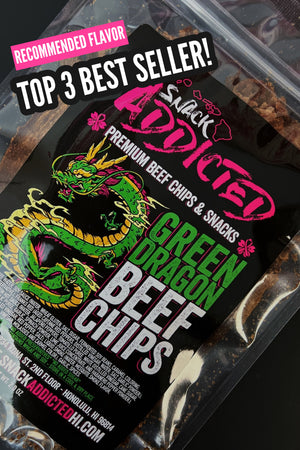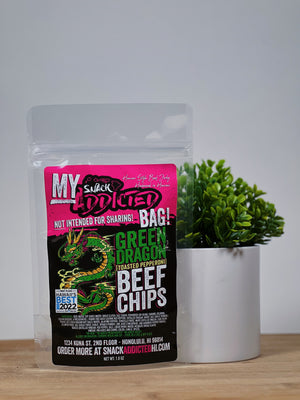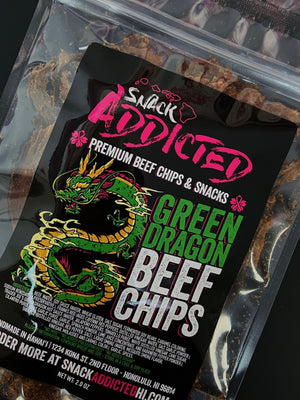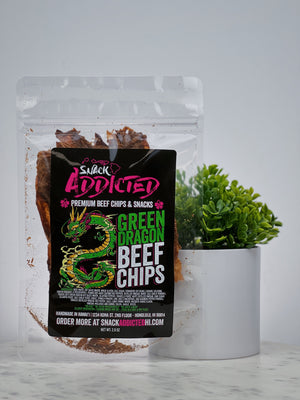 Indulge in something special with Green Dragon Beef Chips! Our delicious Crispy Beef Jerky is based off the famous Trader Joe's hot sauce and has a toasted pepperoni flavor. The perfect balance of spicy and savory, these chips will put a "dragon-sized" smile on your face!
Hawaii Style Beef Jerky! Also known as crispy beef jerky. Each jerky is thin sliced so it eats more like a crispy steak chip rather than your typical chewy beef jerky. All made locally in our store located in Honolulu, Hawaii. 
Perfect Omiyage or Hawaii Gift to bring back home.
Ingredients: Beef, Soy Sauce, Franks Red, Water, Distilled Vinegar, Trader Hot Sauce, Tobasco, Liquid Smoke, Garlic, Spices, Tamarind Extract
*No MSG*
*No Added Preservatives*
*No Added Sugar*
Allergy Information: 
Contains Wheat and Soy